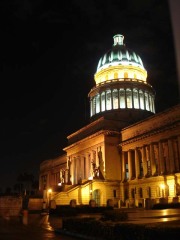 Foreword: Cuba was mind blowing to me. The country and its people had an deep impact on me. Unlike most of my trips, I decided to explore Cuba with a very good friend of mine – Severin, whom I know since my early childhood. During the three and a half weeks that we travelled around we mostly stayed with families (casa particulares), which helped a lot to get closer look to the country and its people then on my usual trips, where I normally stay in hostels.
I discoverd a country that was vastly different from all the other places that I have been before – of course some western influences here and there, even Coca Cola from time to time.
Havana, which now ranks as one of my favourit cities, was jaw dropping for me. Where other city centers start looking more and more similar these days, with the same fashion stores and fast food restaurants across town, Havana is a virtual "Global Brand free" Zone.The capital of Cuba is one giant picture opportunity, especially the old part. I walked around and all the buildings, the faces of the people, the cars, everything was eye popping different. I hope you enjoy this little road-report from my time in Cuba – in 2007.
22. April Flight to Havana, Malecon at night
After my arrival in Cuba and unloading my stuff at our first accommodation we strayed around the center of Old Havana and went to "El Capitolio La Habana", which looks a lot like the United States Capitol. Rumor has it that the guy in charge then wanted to impress his friends in Washington. I wonder why Fidel Castro kept it white after he came to power. I think red would have been a fitting color just as well!
To celebrate the first day in Havana, we walked down the Prado to the Malecon (sea side of Havana) and finally had our first pojo, Mojito and a cigar, three things which would accompany us everywhere in Cuba!